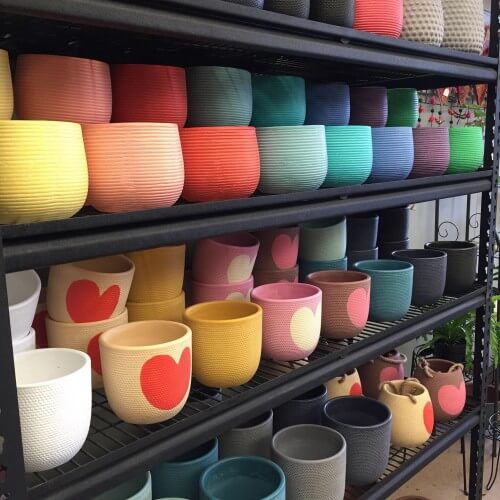 Hyper colour.
We have you covered for coloured pots this Spring.
A fresh batch of these beauties are waiting here to hold your precious plants.
Sugar Sugar, do do do do do do...
Organic Sugar Cane bales... $11.99 each or 5 for $55.
Each bale covers approximately 7-14m²... an essential for the predcicted hot summer ahead.
White Hype!
New 'Fusion White' Calathea leitzei in the shop this week.
Roses galore!
We have loads of Roses in stock... Bush roses, Floribunda & Hybrid Tea and Standards (Lollipops as some like to call them).
/Read More
Bush Tucker.
There's a great selection of Australian Bush Tucker plants in the nursery at the moment.
Explore varieties by following the link below.
/Read More
Po-TA-toes!
We've still got a bunch of seed potatoes in stock.
Several varieties to chose from...
Sebago- $4.99 per kilo
Other varieties are pre packed and priced separately.

Get your spuds in the ground while it's still cool. They're easy to grow, just ask us how.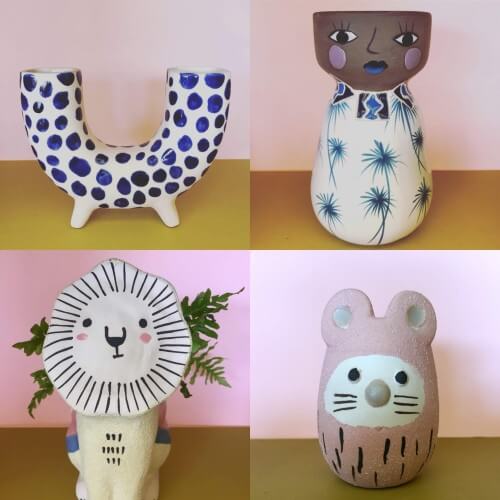 Lots of Pots!
Pictured are a small selection of decorative pots we have in the shop. Pop in for a visit to check out the extended range.
Ivy Geranium
Looking for another tough pot plant? This lady could be the one for you. She puts on her best show in the cooler months and we have several colours in stock now. They require lots of Sunshine and not much water. Ivy Geraniums put on their best show in hanging pots, or standing pots resting on walls or stands to let them hang free.
Zygo fever.
Another batch of Zygo cactus have arrived and they're in full bloom! They are one of the toughest plants around and especially great if you're looking for colour in the shade.
Seeing Doubles!!
Double Impatiens have arrived.
Perennial Multi-buys.
Introducing our Perennial plants in 100mm pots Multi-buy bench. Varieties change regularly to suit availability and the changing seasons. They are $6.99 each or 4 for $20!! This is a great value way to get a long-lasting garden bed established.


Holiday Trading
Hi Folks!! This month we are CLOSED for Good Friday and Anzac Day.

Blossoms
Have you noticed all the blossoms appearing lately... here is one of many,
Acerola or Barbados Cherry (Malpighia glabra).
Citrus
Autumn is the perfect time for planting Citrus... we have so many varieties in stock (lemon, lime, orange, mandarin, grapefruit, cumquat...)
Snowflakes in the heat!
Writia- Arctic Snow.... lovely every year.
Indoor Greenery.
Truck load of indoor plants, including trailing hangers are back in the shop for the weekend (pictured- Peperomia sp.).
Australian Natives
More natives arrived this week... some unusual and hard to find.
Fruit Fever!!!
Fresh arrival of Fruit Trees!!! So many exotics in stock, along with your old favourites.
Click image for a list of some in stock (please remember to call in advance in case we have sold out of something featured here).
/Read More
Not so elusive anymore
We finally have stock of the once elusive Pilea peperomioides... thank goodness... and they won't cost an arm and a leg, phew!
Feeling Cheesy?
Monstera of a different kind, waiting to say 'Hello!'.
Brilliant BROMS
Striking Bromeliads of many shapes, colours and sizes in stock.
ROSES
Hooray! We know so many of you have been waiting for these beauties. We have loads in stock and more to come over the following weeks. Just in time for Mother's Day too.
Certified Seed Potatoes
Australian certified Seed Potatoes are back. $4.99/kg or 2kg for $8.
They're back AGAIN!!
White Bat plants are back AGAIN!!! Don't miss out this time.
Brommmmmsssss
A huge range of Bromeliads are just in and we can't stop looking at all the incredible colours and patterns they show off. They are all named varieties and it's likely you will find some you've never seen. Selling fast
/Read More
String of Pearls
Back in stock this week, 'String of Pearls' (Senecio rowleyanus). Looking super cute and a little bit chubby :)
Radermachera 'Summerscent'
Radermachera 'Summerscent' is our new favourite hedging plant. They grow to around 3m in height and 2.5m in width. The lush, deep green foliage grows in a dense manner and the flowers pop in large bunches. Flowers are a pale pinkish - white tone with golden yellow throat that are well scented.

Coconut Palm (Cocos nucifera).
Do you love consuming coconuts?
Well, we have Coconut Palms in the shop now.
Come and get one, while the weather is warm.
White Bat Plants
White Bat Plants are back and we waited a LOOOONG time.
Theo's plant of the Summer.
This little wonder has been our top Summer plant pick for 2 years running. The Tabernaemontana could possibly be the best dwarf shrub for the Sub-Tropics ON THE PLANET!
An attractive, compact shrub, producing crisp white flowers and glossy deep-green leaves. It's a tough performer in our Sub-Tropical climate. Suitable for borders, pots or anywhere in your garden that recieves lots of Sun. It's drought tolerant too.
The Bangkok Rose is Back!
Mussaenda (Bangkok Rose) is back and we have many varieties in stock.
/Read More
New Arrivals this week
Writia- Arctic Snow
Deutzia gracilis
Wisteria chinensis in 140mm pots.
/Read More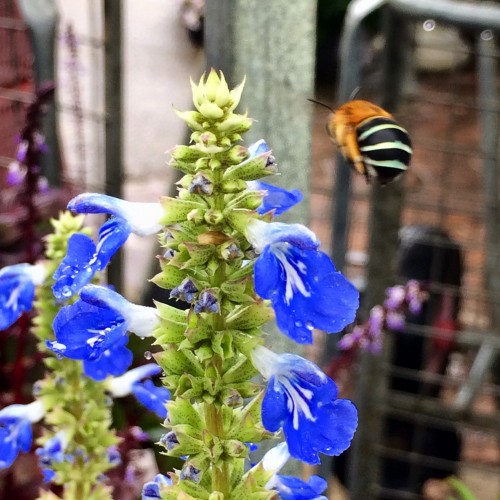 Salvia is my favourite companion.
Salvia's are one of the best companion plants for any garden. Everyday we catch native bees of all sorts making a meal of the pollen. Anyone who loves growing their own fruit and vegetables or you just enjoy the flowers, these are a must for your garden. They come in many different colours and if you plant a few, you will have flowers all year long. Super tough too and they live for years!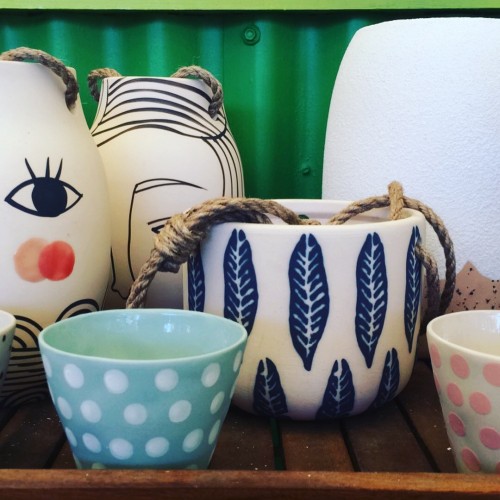 Have you let Miss Jones?
Would you like to bring a little whimsy into your home? We have received a new shipment of Jones n co products. Loads of quirky pots/ planters, hangers and vases in stock.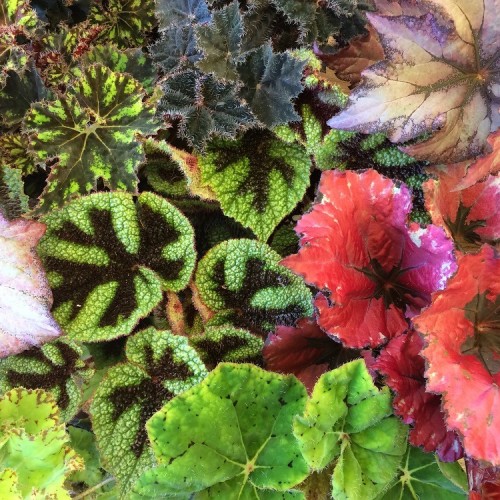 Begonia Bonanza
We had the priveledge of visiting an old friend/ plant collector and grower last week and boy did we find some beauties.
Now in the shop, we have many different Begonias from 'Iron Cross' to eyelash varieties (mostly Rex). The colours are stunning.
Dwarf Nandina
Dwarf Nandina. The toughest border plant. REDUCED TO CLEAR.
140mm pots $7.99 ea OR 3 for $20.
UASHMAMA
People have been asking us for soft pots and finally we have some.
Uashmama, Washable paper bags, are beautiful used as pot holders.
They're hand crafted in Italy, more info on their website https://www.uashmama.com.au/pages/about-us
/Read More
Metal
New metal garden ornaments in the shop this month. Bright and quirky with a good selection of native fauna.
Sunflower 'Flare'
Sunflower 'Flare' (175mm pots) Were: $9.95ea or 3 for $25. Now ONLY $5.00 each!!
Strawberry Shortcake is back
Children of the 80's, look who's back!!?
Pretty poinsettia
Pretty poinsettia are now blooming beautifully! Available soon.
Autumn Garden Update
These wonders are waiting for mums. They won't last long.
Saintpaulia
African violets are surprisingly rather tough, if you don't agree, just ask us for advise on how to care for them.
Raising Funds for BeyondBlue
Pop on in and show your support. Sausage and a drink only $2! All proceeds go directly to beyondblue.
12 Days of Christmas : Day 3
Spend $50 or more and receive a $10 Seedling voucher!