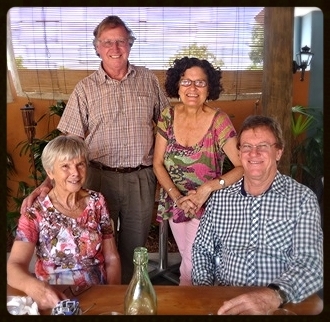 Celebrating 25 years since Bruce and Judi purchased the garden centre from
Theo and his wife Rita (pictured left), 2013.
---
Theo's Garden Centre began in the early 1970's as a tent on the side of Old Gympie Road at Kallangur.
The original "Theo" was a passionate grower of plants and though on that first day of trading he took "$0.00" the business grew into a thriving hub for all things "garden".
The nursery has always had a reputation for selling high quality stock and for being the place to go for help with everything related to the planting and maintaining of the home backyard.
The current owners, Bruce and Judi, purchased the nursery in 1988 and while reinforcing the need for good quality stock, they grew the business with improvements to the site and the employment of friendly, knowledgeable staff.
While many small suburban nurseries have suffered the fate of small businesses in general. Struggled through drought, the GFC and the advent of large commercial competitors and the flea market boom, Theo's has continued to grow through hard work and dedication.
We pride ourselves on good old fashioned customer service.
We love that most of our customers are regular loyal visitors. Many have been coming here since the nursery started and we have seen their children grow up and become part of the Theo's gardening community. It's because of these people and the ever growing customer base that we have been able to continue providing a high standard in stock and service, so thank you to everyone who stops in at Theo's.